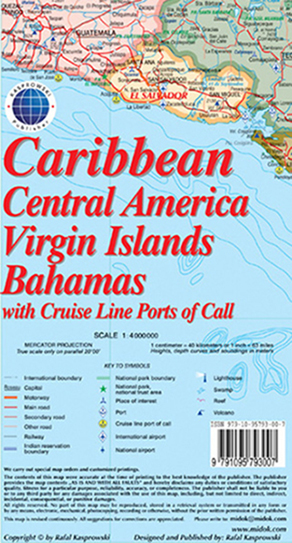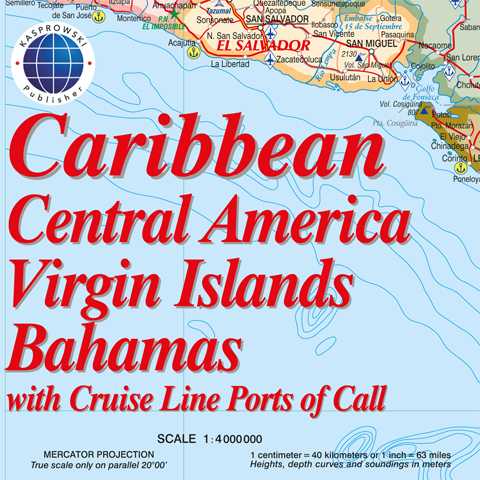 Caribbean, Central America, Virgin Islands, Bahamas
with Cruise Line Ports of Call
[1 : 4 000 000]
This map (Scale 1 : 4 000 000) includes all of the Caribbean islands - both the Greater and Lesser Antilles, the Virgin Islands and the Bahamas. Central America is covered from the Yucatan and Guatemala through Panama. All of Florida is also depicted, as are the coastal regions of Colombia and Venezuela. The map is detailed as no other map of this region on the market and features, among others, over 100 cruise line ports of call, as well as enlarged insets of the Panama Canal and 36 Caribbean islands.
The map is sold folded, measuring 4 7/8" x 8 7/8" (12.5 cm x 22.5 cm) and is designed for easy opening and refolding. Its full unfolded format is 26 3/8" x 38 1/2" (67 cm x 98 cm).
It contains the following features:
Attractive full color layout;
Rich topographic detail;
Symbol key and scale;
Major cities, main and secondary roads, national and international airports, lighthouses, reefs, national parks, ports, volcanoes, and other places of interest;
International boundaries, depth curves, soundings in meters, longitude and latitude lines and other identifiers.